SC-300-04 Sound Oasis Nature Journey Sound Card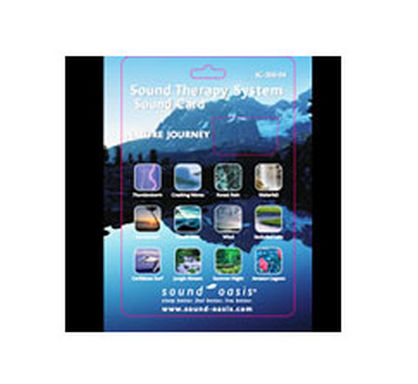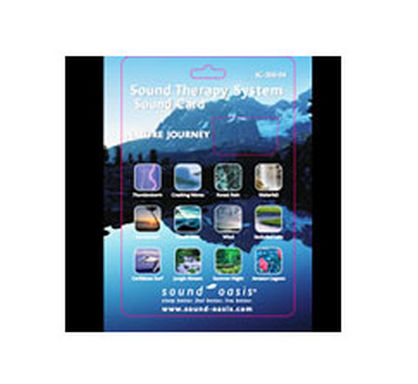 Our Price:
$24.99
You Save $7.50 (30.01%)
---
Manufacturer Part #: SC-300-04
Lead Time: 2 Days
Estimated Shipping Cost: $14.12
Your Sound Oasis NATURE JOURNEY sound card takes you to soothing and relaxing environment to help you sleep and relax easier. It incorporates 12 authentic digital recordings of nature recorded in the wild by the world's most foremost nature recorder. Works with the Sound Oasis S-650 model.


Thunderstorm in the Wilderness - Unwind to the exhilarating, but soothing sound of distant thunder as gentle rain falls upon a remote lake.

Crashing Waves on Rocky Point - Take a break and walk along a jagged coastline as you listen to the powerful, yet exhilarating, crash of waves against the rocks.

Forest Rain - Relax to the steady tapping of refreshing mountainas it pelts the dense forest floor.

Waterfall - Block out noise or drift off to sleep with the natural "white noise" effect of a thundering waterfall.

Gentle Surf in a Hidden Cove - Discover the tranquility of soft surf as it washes against a sandy beach within a hidden cove.

Ocean Rain - Sleep or relax with your favorite book as the wavering patter of rain falls upon the vast ocean.

Wind - Nestle-in as a powerful, but calming windstorm blows through a deep mountain valley.

Secluded Lake - Experience the peacefulness of a secluded lake with gently lapping water and song birds.

Caribbean Surf with Seabirds - Enjoy the calming sound of surf from the shore of a sun-drenched tropical island as birds sing from nearby trees.

Jungle Stream with Birds - Enjoy the peacefulness of a sparkling stream as exotic birds search the adjoining foliage for fruit and insects.

Summer Night - A gentle chorus of crickets provides a peaceful and restful environment.

Amazon Lagoon - Escape to a secluded lagoon and experience the calming sound of bird calls and a frog chorus.
You May Also Like